Grand Canyon: Massive & Amazing, But Worth the Hype?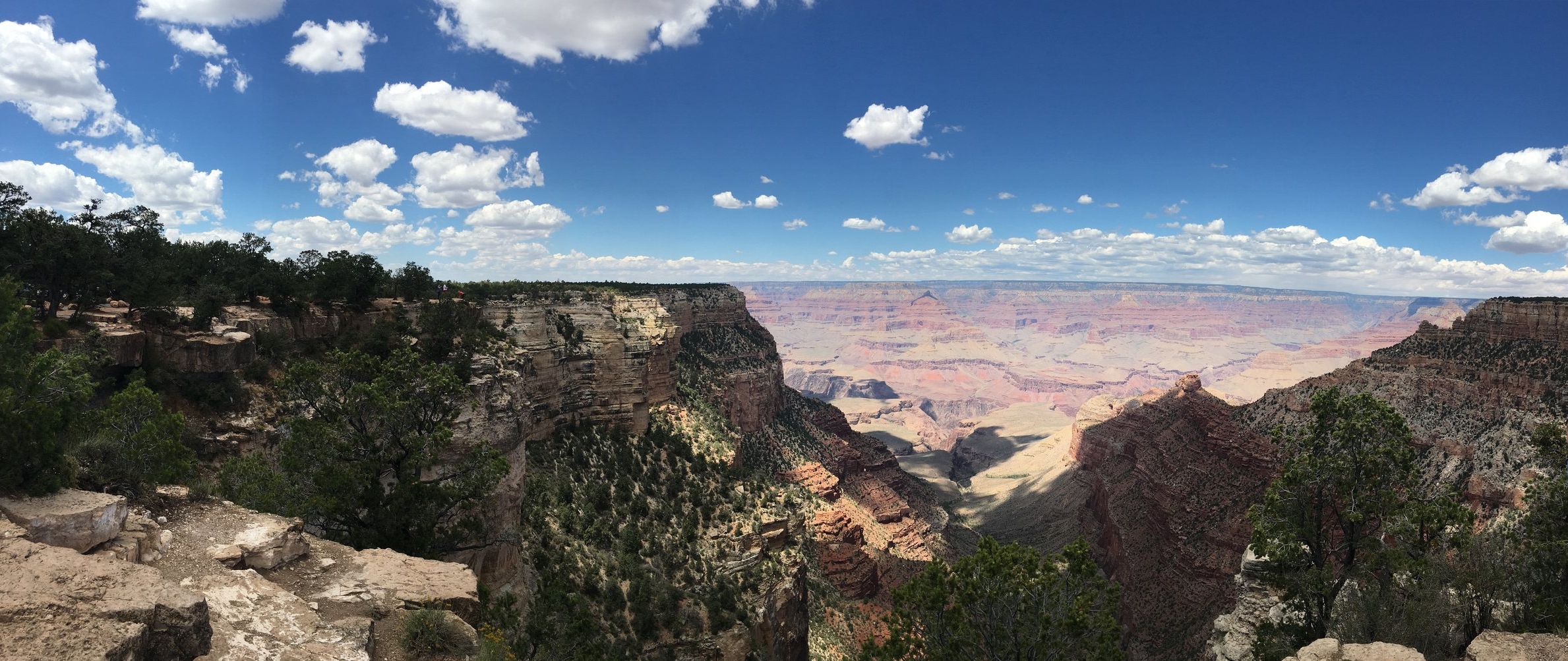 WHEN DID WE GO: August 7-9, 2017
WHY DID WE GO: USA Road Trip - en route to Bryce Canyon
HOW LONG WERE WE THERE: 2 nights
WHERE DID WE STAY: Holiday Inn Express in the Grand Canyon Village (I don't recommend this hotel!) & the Mather Campground
I'm just going to come right out and say it. I was underwhelmed by the Grand Canyon.
Trust me, if you're reading that going "What?!? How is that possible?", you're not the only person whose been surprised by my reaction. But if you've spent anytime at all reading some of my other reviews and synopses of my Epic USA Road Trip, maybe you'll start to understand that we saw some mind-blowing places along this road trip. Antelope Canyon. Carlsbad. Horseshoe Bend. That even though the Grand Canyon is massive & spectacular, if you spend enough time here, it's a canyon. And you're looking at the same very large hole in the ground over and over again.
The bummers
Hotel costs...which weren't worth it. In hindsight, we should've just spent both days camping at Grand Canyon. The $300/night hotel expense was just not worth it. We stayed at the Holiday Inn Express and admittedly I was disappointed basically as soon as we arrived. We couldn't get into our hotel room even though the key worked because you had to lift up on the door handle instead of push down, the only lights in our bathroom didn't work when we got into our room and were never fixed during the duration of our stay, even after reporting it, etc. However, we very much enjoyed the continental breakfast and the absolutely wonderful kitchen staff who were so friendly that hosted it. But otherwise, for $300/night it was so not worth it to stay in a hotel in the Grand Canyon.
The crowds. It's Grand Canyon. It was the middle of August and there were TONS of people. AT the campground. At the hotel. At the viewpoints. It was insane.
More time would've maybe made this place better. We gave ourselves really only one full day at the Grand Canyon, and admittedly it wasn't enough time. If we'd been there for longer we would've been able to do the Rim trail and maybe even do Bright Angel, which actually goes into the canyon. Maybe we would've been able to do Rim to Rim. Whatever, but it's obvious to me in hindsight that we would've been able to enjoy Grand Canyon a lot more if we'd had more time.
The Highlights.
It truly is spectacular. As much of a "negative review" as you could say this is, I truly did thing that the Grand Canyon was spectacular. There is nothing like it in the world in terms of the views. I mean, just look at those panoramas at the top of the page! It is a spectacular view and you truly cannot appreciate the sheer size of this place until you've been there.
Sunset. This was a highlight for me - going to Yavapai point at sunset! We lined up really early, like at least an our before sunset and got some prime locations. People were jockeying trying to get into the area that we were at but we were very dug in. No moving for me thanks! I've got my amazing view and I'm not leaving! My favorite part of the whole sunset experience was just before the sun actually started going down. The rays were filtering into the canyon and it was absolutely magical. My favorite moments and some of my favorite photos were from that hour that we spent watching the sunset.
The campground. For the price of this campground, I wish we had stayed here longer! It was like $20 a night or something absurdly cheap, very nice, we got visited by Mule Deer, and it was so accesible to the trail heads, viewpoints and bus systems. Mather campground is a win!
I would go back to:
Rim-to-Rim. I want to do a rim-to-rim so bad now. You'll see that I definitely had the hiking bug on this trip, and it definitely planted a whole bunch of seeds for all the different hikes I want to do. And this is one of them.
Bright Angel Trail. Maybe when I do the rim-to-rim I'll do this hike, but if I didn't, I'd make sure I do it on it's own! Just cuz it seems that cool!